Utilize Fox Dealer for all of your Website and Digital Advertising needs
Our bespoke dealer websites deliver the most effortless and relevant user experience, plus a distinctive and completely customizable look and feel that adheres to your brand's desires and your store's unique personality. Our developers focus on the pages that convert (VDPs, SRPs, and Homepage). Trusted attribution reporting proves we deliver unrivaled conversion rates and more traffic to your site through an increase in completed and trackable actions.
Fanatical Customer Service
~ You're Batman, and we're Alfred. We've got your back.
We know that stellar customer service is the key difference between being a vendor and being a partner. Our team's mission is to provide you with the best in class service that you deserve. Your dedicated support team is available 24/7 to assist with any need relating to sales, customer support, or campaign management. From our curated launch of your services to ongoing training, we've got you covered.
Responsive Mobile First Platform
We take a mobile-first approach with all of our sites, with fully responsive designs that maximize the use of space, highlighting your dealership inventory and maximizing conversions.
Fox Dealer offers Design(+), to further strengthen your websites WOW factor. Our team of in-house designers will work with you to build a site that reflects your brand while still working within the structure that we know will convert the best... With Design (+), you keep all your graphics under one roof and customers coming through your doors.
Rank higher in organic search with our unique, relevancy-infused content paired with ongoing link building. Fox websites live and breathe at the top of search pages. Our custom dealer sites and services are tailored to magnetically pull your listings to the top of organic search results.
Fox's Dealer Dashboards are real-time (utilizing data APIs) and customizable for each client. Fox also offers live dashboards to show cost per session and cost per action compared to historical benchmarks. This means your campaign managers will see and respond instantly to campaigns, using past performance to guide and continue to drive results over time.
DIGITAL ADVERTISING
Fox Dealer is the foundation that allows automotive dealers to most effectively manage their digital marketing presence.
Fox insists on a concierge approach, with real people managing your campaigns rather than relying solely on an automated bidding system. Our director-level staff personally monitors and manages each dealer's campaign on a day-to-day basis – with the goal of making your dealership more competitive in the digital space. Your dedicated account manager ensures that changes are implemented quickly, and your advertising gets the hands-on attention it deserves. For us, it's about transparency and providing you with custom campaigns that convert at the highest rate possible. Our SEM campaigns are more customized than the competition.
We're Not Just a Pretty Face
Fox Dealer is a Google Premier SMB Partner, allowing us to provide our dealers with access to Google's Display Network in addition to over 50 million video distribution websites. Put simply; we make sure your ads are seen, heard, and delivered to the right prospective buyer.
Customized display ads with a punch. Showcase your best offers with geo-targeted offers proven to increase engagement rates with elite visual impact. Our in-house designers craft banners to match the personality of the site, highlight the vehicles you care most about and ensure the highest conversion.
Mobile ads are available on all devices and across all environments. Elevate your results by Geo-fencing areas, competing dealerships, or specific event locations. Geo-fenced data can pinpoint users precisely based on WiFi, cell tower signals, GPS coordinates, and mobile app activity. Our proprietary ad server allows for VIN specific dynamic display and video targeting. Hone your mobile targeting further with all of the data available in desktop campaigns.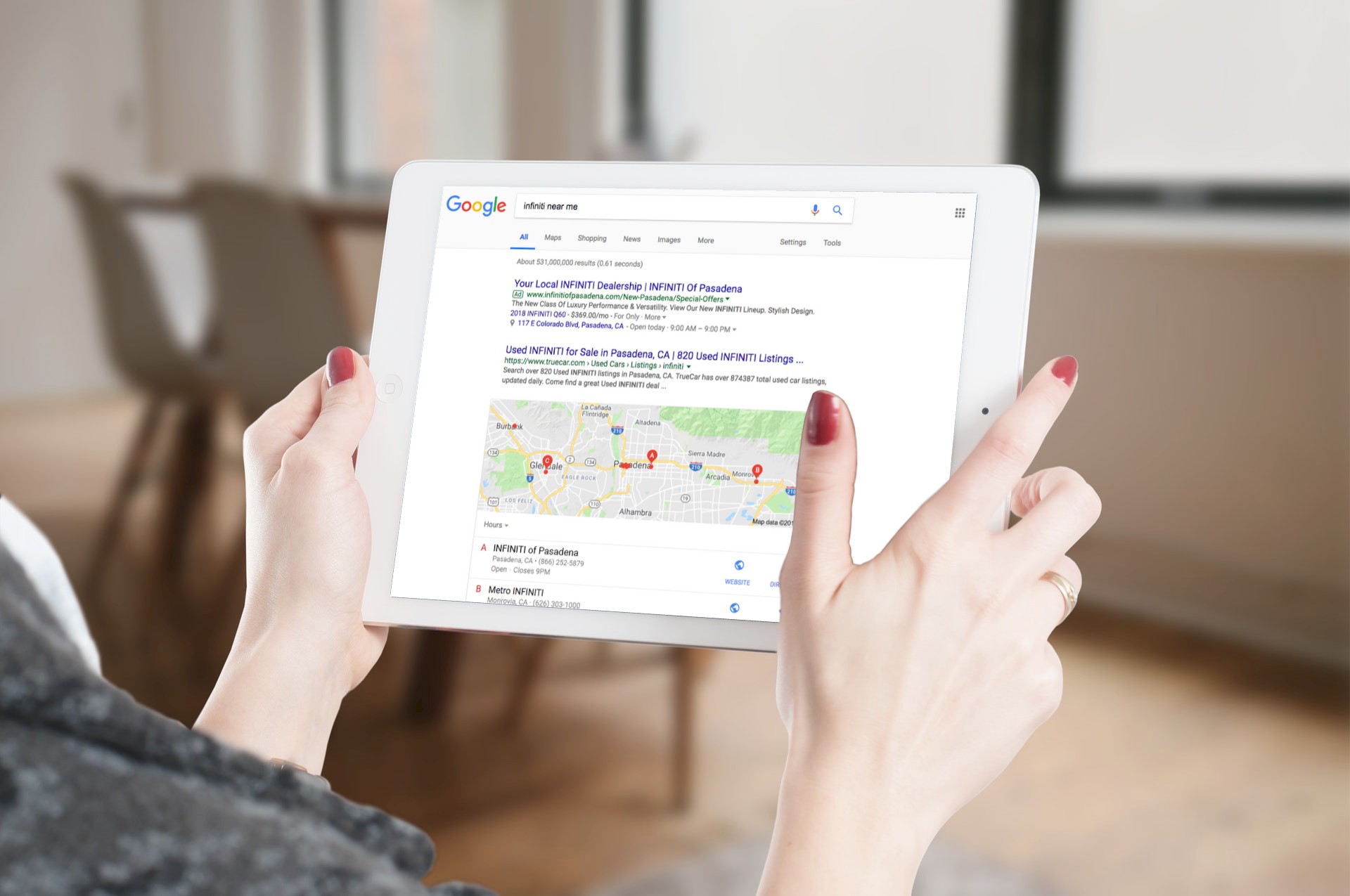 We know it's competitive out there. That's why we use a data-driven approach mastered by actual humans that have a vested interest in making sure your campaigns perform at the lowest possible cost per click. No empty promises, only real results.
Our smart retargeting pixels allows for the delivery of dynamic creative and the running of various ad products such as static cards, product catalogs, carousel ads, web cards, and interstitial units. You can strategically target across multiple social platforms such as Twitter, Instagram, Facebook, and Pandora. The Fox creative team produces all content adhering to each brand's social media guidelines while delivering engaging local content.
Our retargeting strategies are based on website visits to OEM, Tier 2 and Tier 3 sites, and we separate retargeting strategy between sales and service. Display advertising reaches over 200M unique users per month. Our retargeting is both cross screen and cross-device - desktop, tablet, and mobile.